There are a number of different shapes of fiber optic adapters available, depending on the make-up of the two cables that are to be connected as well as the diversity of the fiber optic connectors. According to the types of fiber optic connectors that adapters are used for, there are several common adapters: LC adapter, FC adapter, SC adapter, ST adapter, E2000 adapter, MTP/MPO adapter, etc.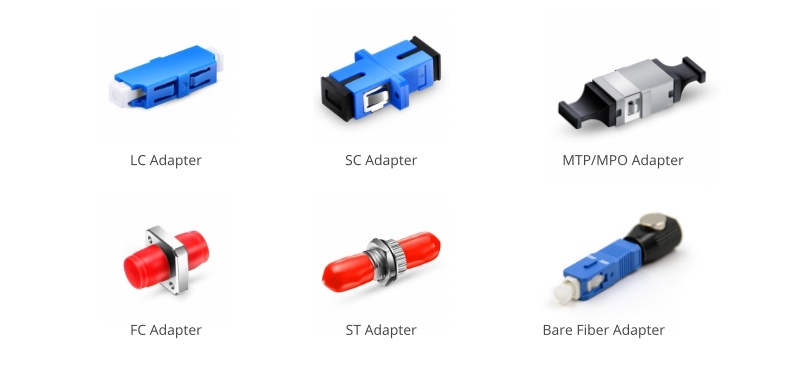 LC Adapter
LC adapters can be used for the connection of LC patch cables or LC connectors. There are different types including LC to LC, LC to FC, LC to SC, LC to ST, and LC to MU, etc. All these adapters can be available in simplex, duplex, quad, single-mode, multimode, UPC, APC, PC with plastic housing, zirconia sleeve, and optional bronze sleeve.
FC Adapter
FC adapters can be used for the connection of FC patch cables or FC connectors. FC adapters include square type, single D type and double D types, in single-mode and multimode versions. All these adapters are with metal housing and ceramic sleeves. The FC square adapter is available in the standard body styles with nickel plated brass or nickel plated zinc housing. FC round adapters come with a choice of D or double D Flange, and feature nickel plated brass housing for corrosion resistance.
SC Adapter
SC adapters can be used for the connection of SC patch cables or SC connectors. There are various types including single-mode and multimode, zirconia sleeve and bronze sleeve, simplex and duplex versions. Standard female to female SC adapter and hybrid SC adapters are also available. Typical SC adapters are with plastic housing. There are also metal housing SC adapters. Most of these adapters come with ceramic sleeves, while there are bronze sleeve SC adapters which are generally multimode types.
ST Adapter
ST adapters can be used for the connection of ST patch cables or ST connectors. There are simplex, duplex, single-mode, multimode, metal, and plastic ST adapters. Most ST adapters are simplex with zirconia sleeves, and optional bronze sleeve adapters are available for multimode.
E2000 Adapter
E2000 adapters can be used for the connection of E2000 patch cables or E2000 connectors. There are single-mode and multimode E2000 adapters. These adapters include both UPC and APC polish types. The E2000 adapters are with zirconia sleeves and in simplex style.
MTP/MPO adapter
MTP/MPO adapter provides the connection between cable to cable or cable to equipment in the MTP/MPO style. It works for any MTP Connector from 4 fiber to 72 fiber, which are widely applied in 10G/40G/100G networks, data center, optical fiber communication system, cable television network, fiber optic access network and video transmission.
A Special Fiber Optic Adapter: Bare Fiber Adapter
Bare fiber adapter is a type of adapter that can be used to attach a bare fiber optic cable to a connection piece. This type of adapter allows the cable to fit into a connection slot, whether into a mating sleeve or into an electronic device. The fiber optic cable can be fit into an adapter that works with any of the standard shaped connectors.