In recent years, the global marketplace has been driven by the increasing adoption of fiber optic technology. Fiber optic cables are widely used to replace copper cables in most cases, which have a positive impact on the fiber optic connector market. The following bar chart from Grand View Research shows the development of fiber optic connector types like LC, SC, MTP fiber connectors in recent years.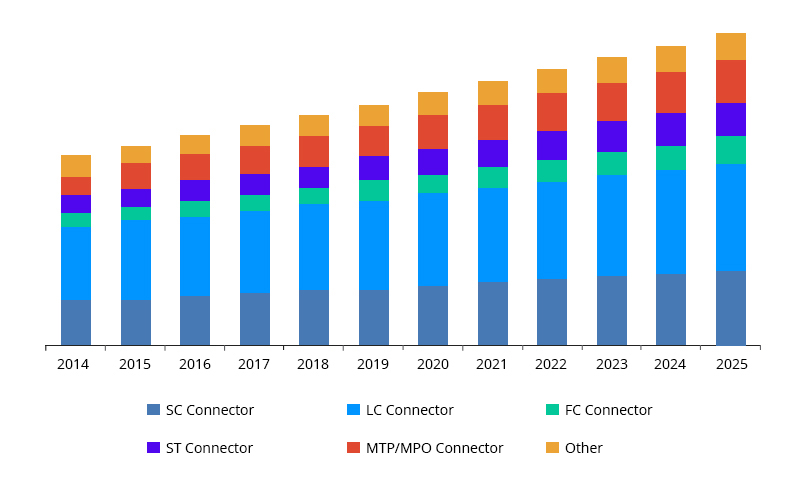 From the chart, it's easy to know that the increase of these five commonly-used fiber optic connectors has a steady tendency; specifically speaking, LC connectors still domains the major optical connector market in the next years, and the need for MTP/MPO connectors are also growing recently, which indicates that the MTP/MPO connectors may tend to occupy more market share.
In conclusion, the total growing trends have reflected the constant demands for fiber connectors. And the market is witnessing the development of fiber optic connectors. High-density and high-quality connectors like LC connectors still remain the first choice for many users. And the multi-fiber optical connectors like MTP/MPO connectors or even the Rosenberger Q-RMC connectors may gain more favors due to the popularity of the high-bandwidth 100G/200G/400G network deployments and 5G applications. We can anticipate that as the growing demand for efficient cabling and cable management, fiber optic connectors that can provide easy installation, low fiber loss, and high performance will continue to be the trend in optical communications.