Designed connectors can be put at the end of a fiber optic strand when terminating a fiber optic cable. Since fiber optic technology was introduced decades ago, numerous connector styles such as SC, FC or LC have been developed. There are three main components of a fiber optic connector: the ferrule, the connector, and the coupling mechanism.
Traditional Epoxy and Polish Fiber Connectors
Epoxy or Polish Fiber Connectors are very traditional and widely used connectors. You may find that most factory-made connectors are epoxy or polish style owing that the epoxy or polish type is relatively reliable with low cost and low loss through a multi-factor consideration. The fiber is glued into the connector with epoxy and the end polished with a special polishing film. Such traditional epoxy and polish fiber connectors are needed for the applications where a large number of connectors will be used.
Quick Termination Fiber Optic Connectors
For quick termination fiber optic connectors, there has been a fiber stub bonded into the ferrule, where the end face of the ferrule is polished to a PC/UPC/APC finish. The other end of the fiber is cleaved and resides inside the connector body. It is more costly than the epoxy and polish fiber connectors. The following figure shows the quick termination fiber optic connector assemblies from Hansun.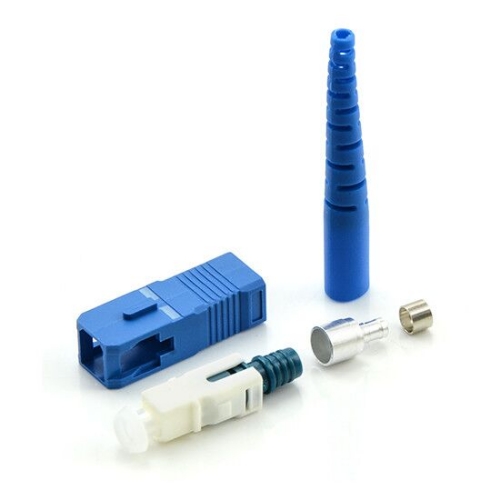 It is recommended to monitor the loss with a visual fault locator when terminating them because once there is something wrong with the termination process, you will lose both the connector and the two splices. It is applicable for situations where few connectors will be used and where it is often the case to move, add, change or test.