Fiber optic pigtails are available in various types: Grouped by pigtail connector type, there are LC fiber optic pigtails, SC fiber pigtails and ST fiber pigtails, etc. By fiber type, there are single-mode fiber optic pigtail and multimode fiber optic pigtail. And by fiber count, 6 fibers, 12 fibers optic pigtails can be found in the market.
By Fiber Type
Fiber optic pigtails can be divided into single-mode (colored yellow) and multimode (colored orange) fiber. Multimode fiber optic pigtails use 62.5/125 micron or 50/125 micron bulk multimode fiber cables and terminated them with multimode fiber optic connectors at one end. 10G multimode fiber cables (OM3 or OM4) are also available in fiber optic pigtails. The jacket color of 10G OM3 and OM4 fiber optic pigtail is usually aqua. Single-mode fiber pigtail cables use 9/125 micron single-mode fiber cable and terminated with single-mode fiber connectors at one end.
By Connector Type
According to different types of pigtail cable connector terminated at the end, there are LC fiber pigtail, SC fiber pigtail, ST fiber pigtail, FC fiber pigtail, MT-RJ fiber pigtail, E2000 fiber pigtail and so on. With different structures and appearance, each of them has their own advantages in different applications and systems. Let's go through some widely used ones.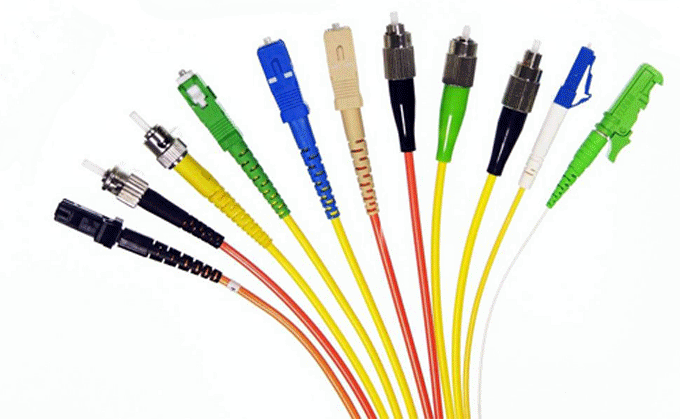 By Application Environment
Some pigtail cables are specially installed to withstand the harsh or extreme environments, so here comes armored fiber pigtail and waterproof fiber pigtail.
By Fiber Count
Fiber optic pigtails could have 1, 2, 4, 6, 8, 12, 24 and 48 strand fiber counts. Simplex fiber optic pigtail has one fiber and a connector on one end. Duplex fiber optic pigtail has two fibers and two connectors on one end. Each fiber is marked "A" or "B" or different colored connector boots are used to mark polarity. Similarly, 4, 6, 8, 12, 24, 48 and more than 48 fibers fiber optic pigtails have their corresponding feature.