Product Description
The fibers, 250μ m, are positioned in a loose tube made of a high modulus plastic. The tubes are filled with a water-resistant filling compound. A Fiber Reinforced Plastic (FRP) locates in the center of core as a non-metallic strength member. The tubes (and fillers) are stranded around the strength member into a compact and circular core. After the cable core is filled with the filling compound to protect it from water ingress, the cable is completed with a PE sheath.
Advantages
1. Low dispersion and attenuation.
2. Proper design, precise control for fiber excess length and distinct stranding process render the cable excellent mechanical and
environmental characteristics.
3. Anti-electromagnetism ability.
4. Small cable diameter, light cable weight, easily to install.
Product Structure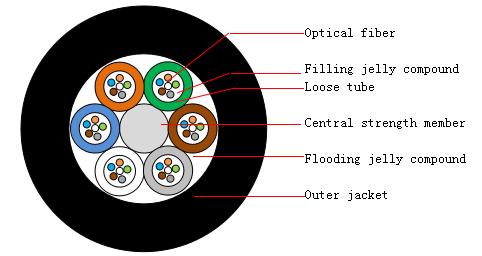 Technical Parameters

Optical Characteristics