Product Features
There are many single mode fiber equipped in the center of  GYXTW ,it is filled with  factice ,The outward of Loose-tube are wrapped with water proof tape and  corrugated steel tape. The sheath's outward  adopt high-class black polyethylene and equipped two round steel wires in it ,which is  parallel symmetric .The total cross section of this fiber is waterproof,compact configuration,small external diameter,light weight,excellent machine performance ,low loss ,low dispersion,be suit for overhead ,channel,and buried lay of digit or analog transportation system .
Product Structure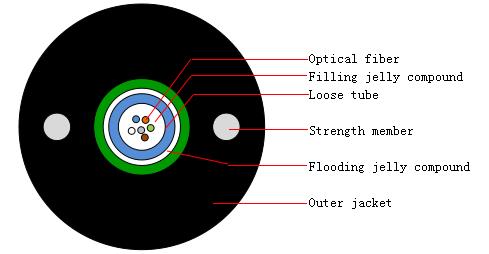 Characteristics
1.Excellent mechanical and temperature performance guaranteed by the accurate excess fiber length.
2.Critical protection to fibers, based on the excellent hydrolysis resistance and strength performance of tube material and special filling compound filled in the tube.
3.Special compact structure to avoid the loose tube shrinkage.
4.Excellent crush resistance and flexibility.
5.PSP enhances the cable crush-resistance, impact-resistance and moisture-proof.
6.Two parallel steel wires ensure tensile strength. Small diameter, light weight and installation friendliness with long delivery length.
7. Excellent ultraviolet prevention with PE sheath.
Main technical parameter
 
GYXTW
No. of fiber
2-12
Outer dia.
9.0-11
No of steel wire×diameter
2×1.2 2×1.5
Tensil strength resistance(shortterm)
≥1500
(N/100mm2 ) S.P.resistance
≥1000
Crusit resistance
5N.m×5 times
Permissible bending radius

20 times as outer dia. of fiber cable
Temperature

-40℃~+60℃ range the additional
loss of fiber cable a≤0.1dB/2km
Weight (kg/km)
100-120
Longitudinal waterproof performance

No water seepage for 3m samples in 1m water head for 24h
Properties

Light weight,low price,suitable for overhead,duct laying