With the features of high bandwidth, low power loss, light weight and so on, fiber optic cables have gained popularity among network service providers and are widely adopted for today's network cabling. Although with so many advantages, it doesn't mean that fiber cable installation needs no care. Since this post Fiber Optic Cable Installation Tips have listed the main installation tips for reference, the next part will offer you some targeted advice about installing in different places such as runs in the conduit, above ceilings and below floors, runs in cable trays and risers.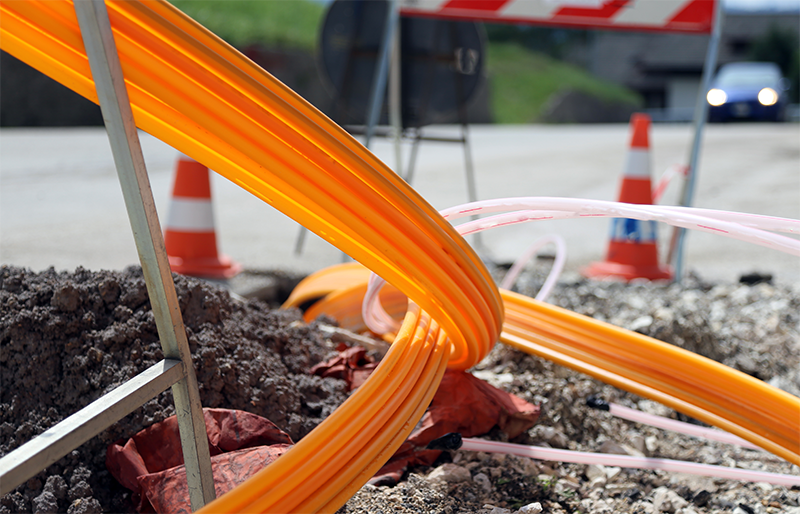 Conduit Cabling
Conduit cabling can be used indoors in walls or ceilings and outdoors especially for underground cables. It's inflexible for conduit installation for a big difficulty to make moves, adds and changes. When pulling cable in conduit, all transition points should be kept smooth. Try to leave an additional piece of conduit outside of the transition to keep the cable from resting on a sharp edge. Or you can use inner duct or flexible conduit to keep cables from damage. You also need pull boxes for fishing the run and looping the cable for the next length of conduit. To ease the installation, fish tapes or pull cords should always be placed in the conduit.
Note: The inside radius of conduit bends should be at least 10 times the diameter of the cable. Conduit runs should be limited to 100 feet, with no more than two 90-degree bends between pull points or boxes.
Dropped Ceilings and Raised Floors Cabling
Installation in drop ceilings or raised floors may be the easiest. Suspended ceilings consist of low-weight panels supported by a system of metal frames or grids attached to the ceiling. Usually these panels can be easily moved away from the grid when they are pushed up. Then more space can be left for other equipment installation. Fiber cables in these spaces should be well supported and organized. You are suggested to use some tools for easy fiber optic cable management like trays, J-hooks and cable ties.
Trays Cabling
Cables trays or ladder racks provide a convenient, safe, efficient location for optical fiber cable installation. Trays can be installed in ceilings, under floors and in riser shafts. Trays can provide good support and certain protection for cables. But you should still notice that cables may also suffer from stress. When running the fiber cables in the trays, better avoid as much tension, crushing and bending as possible. Make sure the cabling routes are away from sharp turns, snags (sometimes from other cables) and rough surfaces. Try not to pull cable under or between heavier cable or multiple cables that may create huge stress. It's also true to moves and adds of fiber cables. Do not forget to secure the cable to the tray with cables ties to avoid damage during changes, and do this every three feet.
Riser Cabling
For vertical cabling in risers, if possible, at least use the cable rated OFNR. When pulling cables vertically, use some device to support the cable without crushing the core. Cables should be supported with cable ties in wiring closet. And begin the installation from the top, making it easier comparing to pulling cable from the opposite direction. Maybe handling procedures of optical fiber cables produced by different manufacturers are different. So follow the manufacturer's instructions at first.