Armored fiber cable can be divided into indoor armored fiber cable and outdoor armored fiber cable. With the fast development of fiber optic communication technology and the trend of FTTX, indoor fiber optic cables are more and more required to be installed between and inside buildings. Typical indoor armored fiber cable types include GJFJV, GJFJZY, GJFJBV, GJFJBZY, GJFDBV and GJFDBZY. Compared with outdoor use fiber cable, indoor fiber cable experiences less temperature and mechanical stress, but they have to be fire retardant, emit a low level of smoke in case of burning. And indoor armored fiber optic cable allows a small bend radius to make them be amendable to vertical installation and handle easily.
Features of Indoor Armored Fiber Cable
* Good mechanical property and environment property.
* Soft, agility, convenience for connect.
* Flexible and Easy to Handle
* Cables with Improved Attenuation Available
* Adapt to harsh environments and man-made damage.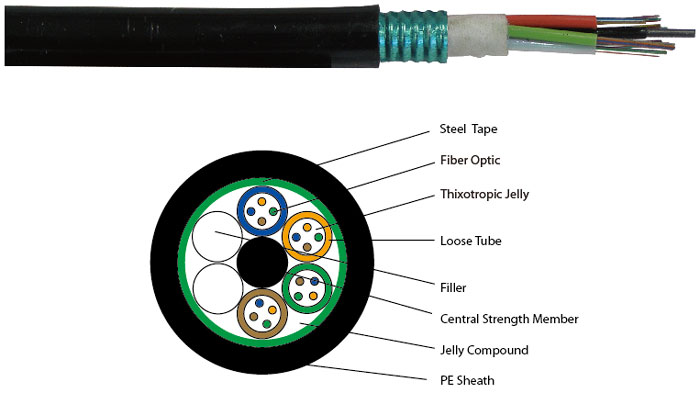 Outdoor armored fiber cable is made to protect the optical fiber to operate safely in complicated outdoor environment. Most Outdoor Armored fiber cables are loose buffer design, with the strengthen member in the middle of the whole cable, the loose tubes surround the central strength member. Inside the loose tube there is waterproof gel filled, whole cable materials used and gels inside cable between the different components (not only inside loose tube) will help make the whole cable resist of water.
Features
* Excellent attenuation performance
* Dry water blocking for moisture protection
* Polyethylene jacket for weather and UV protection
* Breakout kits available
* Corrugated Steel Tape
* Rodent Resistant
* Waterblock gel available