How it Works
Undersea or submarine cable is essentially the backbone of the internet and what allows countries and continents to share information between one another. While satellite communications are highly effective it is simply more reliable and cost effective to make use of undersea fiber optic cables. This is not to say that undersea cable is cheap by any stretch of the imagination.
Submarine cable is placed on the sea bed between land based stations in order to convey signals across the ocean. With the first communication cables being laid as early as the 1850's for use in telegraphy. Later on these cables would advance in order to make use of modern fiber optic and carry digital data including telephony and the internet.
Typical modern undersea cables are far larger than fiber cable used in everyday land use. They are usually around 25 mm (0.98 in) in diameter and have a tremendous weight of around 1.4 kg per meter (0.4 lb/ft), although much larger and heavier ones are in use around shallower areas and nearer to shore.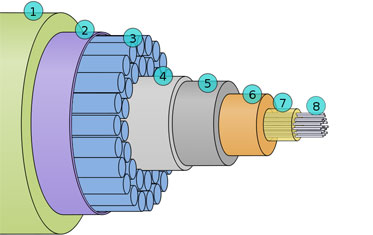 1.Polyethylene Jacket
2.Mylar tape
3.Stranded Steel Wires
4.Aluminium Water barrier
5.Poly-carbonate
6.Copper or Aluminium Tuber
7.Petroleum Jelly
8.Optical Fibers
How is it Laid?
The cables are laid gently on the ocean floor by specifically designed ships and in most cases remain submerged due to their weight. They are designed with an average life-span of 25 years, this however does not mean they are immune to breakages prior to this. There are a number of reasons a cable can fail including anything from simple degradation to shifts in the ocean floor. This of course means that repairs will be required and this in turn requires specialized equipment and specially trained personnel to carry out the work.