Bend insensitive fiber patch cable is designed to transmit light with minimum loss even if they are bent beyond the bend radius. In these BIF optical cables, an optical "trench" – a ring of lower index of refraction material – is built into the fiber to basically reflect the lost light back into the core of the fiber, thereby minimizing data loss. Bend insensitive fiber cable offers greater flexibility in demanding environments than traditional fiber cable. It is typically used in data centers or any space constrained area where tight bends and flexibility are required. Bend insensitive fibers are available in 50/125 MMF (OM3 and OM4) and 9/125 SMF versions.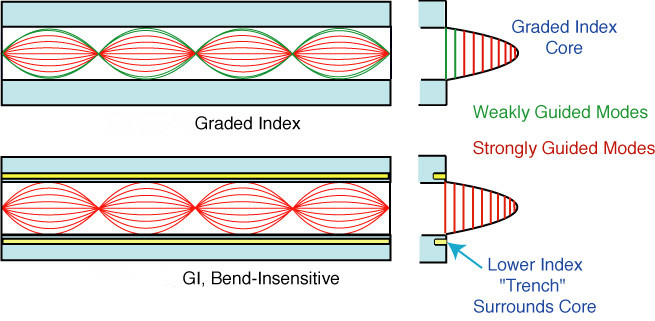 Bend Insensitive Multimode Fiber Optic Cable (BIMMF)
Multimode fiber is popular in data centers and intra-building backbones. In the era of increased connectivity, more demands on the quality and performance of link components become more critical. New bend insensitive multimode fiber minimizes bend-induced attenuation, which helps maximize system reliability and minimize downtime. These BIMMF cables are available in all laser optimized grades, OM2, OM3 and OM4, and exhibits 10 times less signal loss in tight bend scenarios. The fiber can be installed in loops as small as 7.5mm radius with less than 0.2dB bending loss at 850nm and 0.5dB at 1300nm.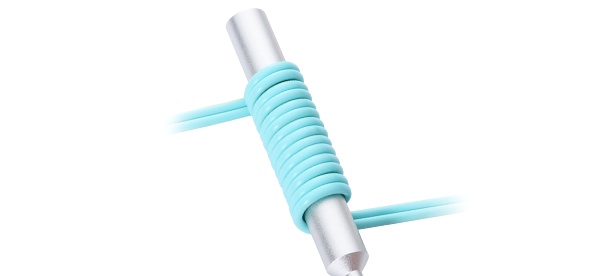 Bend Insensitive Single-mode Fiber Optic Cable (BISMF)
In 2007, a new type of "bend-insensitive" single mode fiber was introduced. It can withstand stress from bending, twisting, or stretching without suffering significant performance loss. ITU recommendation G.657 specifies two classes of single mode bend insensitive fiber patch cables: G.657 A and G.657 B. The minimum bend radius of G.657. A1 fibers is 10mm, of the G.657. A2 and G.657.B1 fibers is 7.5mm and of the G.657.B2 fibers is 5mm. Compared with minimum bend radius of the standard single mode G652 fibers which is usually 30 mm, G.657 single mode bend insensitive fiber patch cables are much more flexible. Thus, BISMF cables can be confidently installed with a variety of installation methods and in the increasingly high-density application spaces of today's data center.