Multimode fiber (MMF) is a kind of optical fiber mostly used in communication over short distances, for example, inside a building or for the campus. Multimode fiber optic cable has a larger core, typically 50 or 62.5 microns that enables multiple light modes to be propagated. Because of this, more data can pass through the multimode fiber core at a given time. The maximum transmission distance for MMF cable is around 550m at the speed of 10Git/s. It can transmit farther at lower data rates, such as going about 2km at 100Mb/s.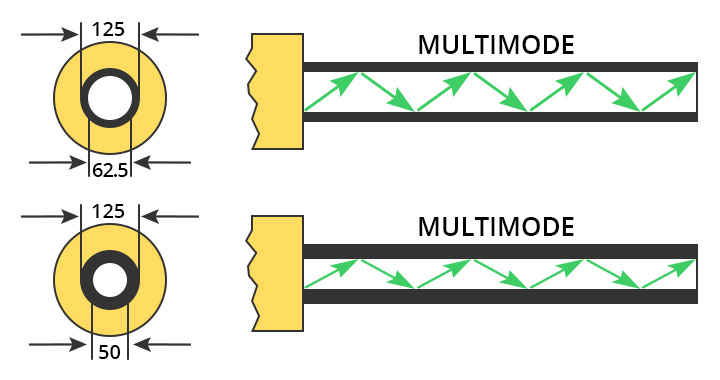 What's The Advantages of Multimode Fiber?
Although single mode fiber patch cable is advantageous in terms of bandwidth and reach for longer distances, multimode fiber easily supports most distances required for enterprise and data center networks at a cost dramatically less than single mode fiber. Besides, multimode fiber optic cable still has many significant advantages.
Multi-user Framework Without Loss Interference
Multimode fiber features carrying multiple signals at the same time in the same line. Most importantly, the total power inside the signals carries almost no loss. Therefore, the network user can send more than one packet in the cable at the same time, and all information will be delivered to their destination with out any interference and keep unchanged.
Support of Multiple Protocols
Multimode fiber can support many data transfer protocol, including Ethernet, Infiniband, and Internet protocols. Therefore, one can use the cable as the back bone of a series of high value applications.
Cost-effective
With a larger fiber core and good alignment tolerances, multimode fiber and components are less expensive and are easier to work with other optical components like fiber connector and fiber adapter, and multimode patch cords are less expensive to operate, install and maintain than single mode fiber cables.